I pledge allegiance to the flag of the United States of America and to the Republic for which it stands, One nation, under God, indivisible, with liberty and justice for all.
Events and Celebrations
I know more than a few people who would love to combine NATIONAL GO FISHING DAY and NATIONAL WANNA GET AWAY DAY.  Finding that perfect spot to reel some crappie in, or maybe just pretending to, can be ideal for gettin' away from it all.  Southwest Airlines started National Wanna Get Away Day in 2021 to celebrate their 50th anniversary.  Just picking up and flying somewhere sounds cool, but it is not always easy to do.  Find a park, a scenic view, plan a camping trip or ask Calgon to take you away in a soothing bubble bath and forget about all of your cares for a while.
NATIONAL SPLURGE DAY was started to encourage shoppers to give the economy a boost.  Sounds like a good idea to me.  Today is the perfect excuse to loosen the strings on the money bag and go after that must have item.  However, if you go too crazy or get in trouble from your significant other – don't blame me – take a little responsibility people. 😊
Here is something I want to see – someone combining INTERNATIONAL SURFING DAY with WORLD JUGGLING DAY.  I've always wanted to surf – it looks cool – and fun.  However, I would probably drown.  I do know how to juggle – the best way is to start off with three pair of rolled up socks – that way, they wont bounce all over when they hit the floor.  Start by tossing one pair from one hand to another.  Sounds easy, but practice doing it without moving your arms and just flicking your hands until you get the sock to land in your other hand without moving it. Once you can go from one hand to the other, add the second pair.  This is the crux of juggling – if you can master this move, you can juggle.  Holding a pair of socks in each hand, toss one to the other hand, like you've been doing.  Before it lands, toss the second pair under it, then catching the first, followed by catching the second.  Once you can throw and catch both ways doing this, all you have to do is add the third pair and keep it going. And, of course, practice, practice, practice.
On this day…
1812 – It's the second go around between us and Britain as we declare war on England
1815 – Napoleon meets his Waterloo – literally
1873 – Susan B. Anthony is found guilty of illegally voting and fined $100.  Judge Hunt had to order the jury to find her guilty.  The poll workers who allowed her to vote were fined $25 each.  Susan refused to pay the fine and was eventually pardoned – by President Trump in 2020
1983 – Sally Ride becomes the first American female to go into space
2006 – Katherine Jefferts Schori is elected to be the Presiding Bishop of the Episcopal Church in America. She was the first woman to be appointed as a church wide leader in their 400-year history
You say it's your birthday…
  Led many expeditions up Mount Everest and his disappearance on that mountain in 1924 is still a mystery.
She was the grand duchess of Russia and the youngest daughter of Tsar Nicholas II – the last emperor of Russia. She, along with the rest of her family, was executed by the Bolsheviks
Award winning wine maker – I can attest to his quality as we had a bottle of his Pinot Noir the other night – it wasn't bad
Economist and author, whose financial column for the "American Banker" had over 40 million readers at the height of her career
The Cubbies didn't want him, and after two years they traded him to the St. Louis Cardinals – and we are glad they did.  He ended up with a lifetime .293 batting average, a record setting 938 stolen bases and was inducted into the Baseball Hall of Fame.  Lou, you will always be one of the greats.
Half of the famous movie critic team of Siskel and Ebert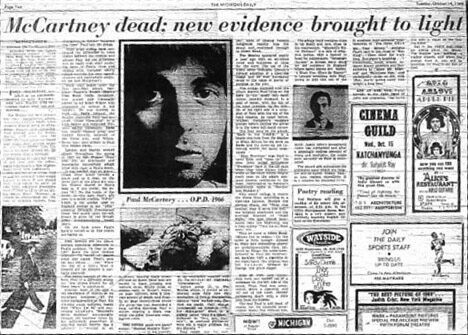 Russ Gibb, a Detroit DJ, took a caller's advice and played some of the songs from the White Album backwards.  He construed the ensuing words to conclude that Paul had died in a car crash in 1966 and the Beatles had brought in an imposter.  The story caught on like wildfire.  When Rolling Stone magazine called Paul up in 1974 to ask him about it, he said, "Oh, I don't agree with that." Happy Birthday Sir Paul.
Chart-topping Country music singer, songwriter and a coach on "The Voice"
Enjoy the day and make it your own
Dear Heavenly Father, we look to you for guidance, peace and healing. Please end the suffering brought on by COVID, help our friend to heal from cancer and may You continue to bless us. In Jesus' name I pray. Amen.
Thank you to National Day Calendar; National Today; History.com; Britannica.com; Wikipedia;